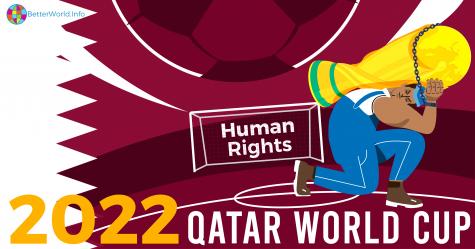 HUMAN RIGHTS GUIDE to QATAR and the FIFA WORLD CUP 2022
This must-have guide to the 2022 Qatar World Cup is for human rights activists, football fans, and concerned citizens. We provide a reliable and informative guide of more than 1,000 resources on the most important information for those travelling, those watching from home, and those pushing for positive social change.
Find important background info such as top news resources, important social media to follow, and official links to content including the FIFA ethics committee.
Qatar is a conservative Muslim society featuring a relatively liberal form of Wahhabism. Modest dress, restrictions on alcohol sales, and many other deeply ingrained traditions will be relaxed for the crowds of festive, and euphoric football fans.
By gulf standards the House of Al Thani represents a progressive and modern government. All citizens, including women, enjoy free education. Healthcare is also government funded, and retirement and pension laws are some of the most generous in the world.
This social safety net in recent years has even been expanded to include workers' rights, including minimum wage laws. The highly controversial Kafala system was partially abolished in 2016.
Qatar won the bid for the World Cup in 2010, and since the very beginning it has been riddled with controversy. Qatar's motivation for its bid has been labelled as sportswashing, alongside more serious claims involving corruption, and bribery.
The influence of geopolitics obviously played a role, but when doesn't it? This is not the first time a huge sports tournament has been held in an unjust state.
What is the Human Rights Situation in Qatar?
While Qatar is one of the richest countries in the world, and its citizens enjoy a wealth of social benefits, up to 90% of its population are in fact stateless. The majority of this number is made up of migrant workers who have very little political or civil rights, and are exempt from basic liberties such as healthcare, and minimum wage laws.
Comprising of over 2 million people, migrant workers face issues such as wage abuse, exploitation, and working under intolerable heat in summer without adequate water.
Figures are tricky, estimates of migrant worker deaths are around 6,500 over a 12-year period. However, it is unclear how many of these deaths were directly related to working conditions and construction of the stadiums and related infrastructure.
Human rights issues in Qatar although ever present, have been dragged into the spotlight during the build-up to this tournament. Notable issues include the discrimination of homosexuality which is punishable by up to five years in prison. The right to choose sexual orientation is forbidden. Rightly so, this is of great concern to LGBTQI+ fans and advocates who wish to travel to the event.
Freedom of speech and religion are also severely restricted. Qatar ranks 119th out of 180 countries for press freedom in the RSF Global Press freedom Index. The countries control of the media has a far reach, and under-reporting and censorship are common.
Women in Qatar do not enjoy the same rights as men. Discrimination and violence under abusive male guardianship policies are legal. The movement of women can be restricted, and women are unable to make many key decisions concerning their own lives.
Qatari family laws also favour men in terms of child custody, finances, and inheritance. Governmental surveillance of women especially online is commonplace, even more so when political and women's rights are concerned.
Persecution of law breakers is brutal. Mistreatment of detainees, torture, and the death penalty await those who do not fall in line.
Widespread protests calling for social reforms have erupted in many parts of the world. They are joined by professional football players, musicians, journalists, and NGOs who have spoken out about human rights concerns and the need for change.
With a score of 5.8 (with 0 being the goal) Qatar ranks very closely to the world average of 5.4 in the 2022 Fund for Peace Human Rights and Rule of Law Index. Qatar's score, and the global average clearly have much room for improvement. Sadly, human rights abuses happen in most countries.
What is the Environmental Impact of the Qatar World Cup?
At a reported cost of 220 billion USD, Qatar built an astounding 8 new stadiums as well as the necessary infrastructure needed to host such a mega event.
Qatar's claim to be the first ever carbon-neutral World Cup was quickly branded greenwashing. In fact, sustainability concerns have made the headlines just as frequently as human rights ones. Airconditioned stadiums and the predicted 400 daily flights has placed the Qatar World Cup as the highest carbon producing World Cup in history.
Estimates state the tournament will produce around 3.6 million tons of carbon. The same figure for the 2018 World Cup in Russia was 2.1 million. These mega sports events are climate disasters. By comparison, Namibia released 3.9 million tons in 2021.
As one of the world's richest countries, and an economy built on fossil fuels, Qatar does not fare well with its environmental record. The country actually has the sixth highest greenhouse gas emissions per capita in the world.
With almost no effort made to achieve the goals set out in the 2030 Sustainable Development Goals, and a doubling of natural gas production, the country seems to be headed very much in the wrong direction.
What could Qatar do with Its Money Instead?
Unfortunately, materialism and Qatar seem to go hand in hand. Rather than building endless skyscrapers, collecting luxury cars, and hosting gigantic sporting events merely for reputations sake, Better World Info proposes an alternative use of this wealth.
They have vast resources which could be invested in renewable energy, climate adaption projects, and carbon capture.
Imagine what Qatar's billions could do for global peacebuilding, combating climate change, or transforming the education systems of countries in the global south.
Qatar most certainly can afford to pay a living wage to everyone, regardless of their status. Rather than spending millions on PR campaigns glossing over their treatment of migrant workers, Qatar and FIFA could easily pay a just compensation to the families of workers who have died.
The gigantic profits of construction companies and sponsors should never take precedent over the rights and lives of individuals.
Qatar really could make a difference. They could be a world leader in green, social investments, and a massive catalyst for change in the fields of sustainability, education, and human rights.
It is worth noting that 97% of Qatar's population live directly on the coastline. Qatar like most countries, is vulnerable to the effects of the climate crisis. It is threatened by sea level rise, dangerous temperatures, drought, and extreme weather events. It is in the vital interest of Qatar to deliver on climate goals, a clean energy transition, and invest in the environment.
Should I Boycott the World Cup in Qatar?
As in the case of all international travel, visitors to Qatar should respect the traditions, culture, religion, and laws of the country.
Albeit limited, there has been recognisable progress in terms of rights. Boycotting the World Cup has the potential to stifle these steps in the right direction. Being on the global stage gives Qatar the opportunity to improve their international image through real measurable change.
The tournament has fostered increased dialogue between Qatar and other parts of the world, a time proven ingredient for advancement. Protests and international attention are prompting reforms which should manifest into long term reform.
The world is watching.
It is hoped that media interest on human rights and sustainability issues remains after the tournament has ended, as well as continued pressure from NGOs and rights groups.
What does Better World Info have to Offer?
This independent, fact-based directory does not focus solely on Qatar, but human rights as a whole. Search by country to understand human rights situations in other parts of the world.
Better World Info also highlights key issues in human rights today. A wealth of information can be found on press freedom, censorship, internet freedom, the global refugee crisis, women's rights, children's rights, LGBTQI+ rights, land rights, the rights of indigenous populations, civil and political rights, and many others.
This is a platform to inform, educate, raise awareness, and to network likeminded individuals who want to make this world a better place. Let's fight for socioeconomic freedom, justice, and a more equal world for everyone.
Let's help to create a better world today!
Author: Rachael Mellor, 24.11.22
More Info on the Qatar World Cup See Below  ⬇️
Info on Qatar World Cup 2022