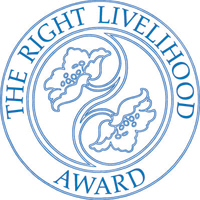 Explore over ➡️ 5,000 links to this excellent prize which honours and supports inspiring pioneers finding practical and exemplary solutions to humanity's biggest challenges. Learn about the work of the foundation and the 194 RLA Laureates from 76 countries, and the Right Livelihood College.
The Right Livelihood Foundation fosters a community of courageous changemakers working for a more just, peaceful, and sustainable world for all. The annual award not only recognizes their groundbreaking work, but it also aims to boost urgent and long-term social change through ongoing support. It increases the visibility of these brave visionaries and raises the profile of their innovative solutions around the world. It also offers them vital protection when their lives and freedom are in danger.
Better World Info highlights the work of all Right Livelihood Laureates to raise awareness and expand their reach to the wider public. Discover our comprehensive guide featuring all award winners since 1980, including key information on their important work and related topics!
Author: Norbert Stute 27.07.23, Update 28.09.23
For further reading on the Right Livelihood Laureates see below  ⬇️